Series creator Nic Pizzolatto is turning up the heat for his critically acclaimed crime drama series by releasing some visuals for the upcoming season of "True Detective". Courtesy of HBO, we get to see motion posters filled with moody undertones and dark streets...
read more
Go ahead, check out some more stuff!
Gabriela Almeida (aka Shermie) wrote a guest post for Arcadesushi.com back in July, providing us Geeks with a little more insight about the world of cosplay. The attractive young lady is passionate about the cause and she is an extremely talented seamstress. She...
Artist keep pushing the boundaries when it comes to music videos these days and 2013 has been no exception with it being one of the hottest, sexiest years in terms of music videos. There's been more 'naked artist' videos this year compared to any other year (as far as...
This week is Breast Cancer Awareness Week and GS are supporting the cause 100%.  Funny or Die launched a new product by the super sexy Rebecca Romijn, called the Hand Bra. Rebecca Romijn recently made our list of Top 15 Woman n Sci-Fi, so needless to say, her 'Hand...
All horror geeks pay attention, cosplay girl LeeAnna Vamp will be your teacher today exploring some interesting facts about the "Evil Dead" movie franchise. Sam Raimi's 1981 cult hit "The Evil Dead" was funded by his family, friends, and a network of investors. The...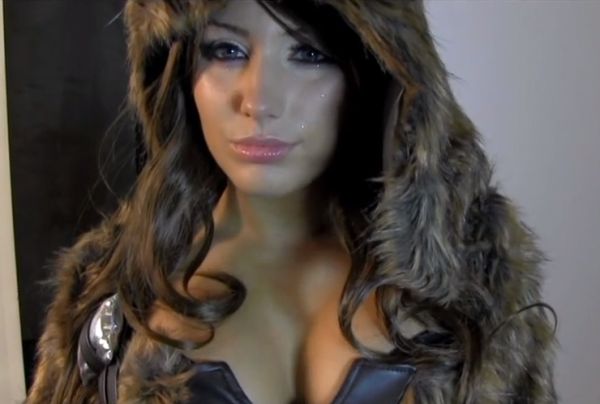 Liz Katz can be seen promoting Yandy's costumes in one of her latest YouTube clips. She is playing her part as a Wookiee preparing for an evening out. Standing in full view of a bathroom mirror, the Wookiee is adding all the final touches which includes hair rollers,...
Sara Underwood is better known as the lady who had a two year on-again, off-again relationship with television presenter Ryan Seacrest. She became an internet sensation when she appeared in episode #2 of the series "The Girls Next Door", as a Playmate hoping to have...