The battle between Marvel and DC has just gone to a next level, this time trying to oust the opponent by announcing their movie release scheduled going forward. Marvel recently announced their movies heading our way up until 2019, DC though did one year better announcing all the DC movies heading our way from 2015 to 2010. Warner Bros. and DC have officially revealed dates for 10 (yes, 10!) projects that will be released between now and summer 2020, as well as two separate "WB Event Films".
The superhero movie line is officially exploding. If you plot all the DC movies together with the Marvel movies then we are in for one helluva ride! Full schedule at the bottom.
Let's take a look at the dates announced, and what we think will be the movies heading our way on that date. the dates are confirmed, the movies not. We listed our predictions on 7 DC comic book movies expected to release a while back, and they remain largely the same. Our estimates we're pretty darn accurate. Here's the DC Movies Heading Our Way From 2016 to 2020:
 Also See:
1. Batman v Superman: Dawn of Justice – 25/03/16

Justice is set to dawn nearly two months earlier than originally planned! In what can only be considered as a sign of defeat by DC, Warner Bros has moved the release of their highly-anticipated superhero team-up Batman v Superman: Dawn of Justice to March 25, 2016! The original date of May 6, 2016 had the film opening opposite Marvel Studios' Captain America 3. It will now go up against Brett Ratner's Beverly Hills Cop.
Marvel fans are revelling in the fact that 'Marvel won round 1' by this obvious sign that DC does not want to go toe-to-toe with Marvel on the same release date. Perhaps one reason could be that with Guardians of the Galaxy doing so well on the Box Office, DC realized the fan-base for Marvel is both large and loyal, something they (DC) is yet to establish for their movies.
 2. Wonder Woman – 08/05/2016
One thing is certain, whichever superhero get's introduced here will be new, and a member of the Justice league. Rumours mentioned below are all for a 2017 /2018 Justice League release date. This sets the stage for Wonder Woman. We've already received the first look at Gal Gadot as Wonder Woman at this years Comic Con. Gal Gadot recently revealed in an interview on Israeli talk show Good Evening with Gai Pines, that she is signed on for multiple films.
Can we expect a Wonder Woman sequel? One of them is surely Justice League.
3. Wonder Woman – 06/23/2017
4. Shazam – 11/17/2017

With Dwayne Johnson already giving pretty serious hints to his role as Shazam, we should expect Shazam to be released before Justice League. Little is known about Shazam at this stage apart from the Dwayne Johnson hits.
5. Justice League – 03/23/2018
Both Latino Review and THR are claiming that Justice League will arrive in 2017, and not 2018. This is keeping with the long-standing rumor that Justice League and Batman vs. Superman will be filmed back-to-back. THR also claims to have "confirmed" that the movies are shooting one right after the other. This does not make a lot of sense to us though and we predict a 2018 release or even later for Justice League as DC will need to introduce more members of the Justice league before actually making a Justice League movie. These introductions will happen with individual movies.
At the moment we have Batman, Superman and Wonder Woman.
6. Harley Quinn -07/27/2018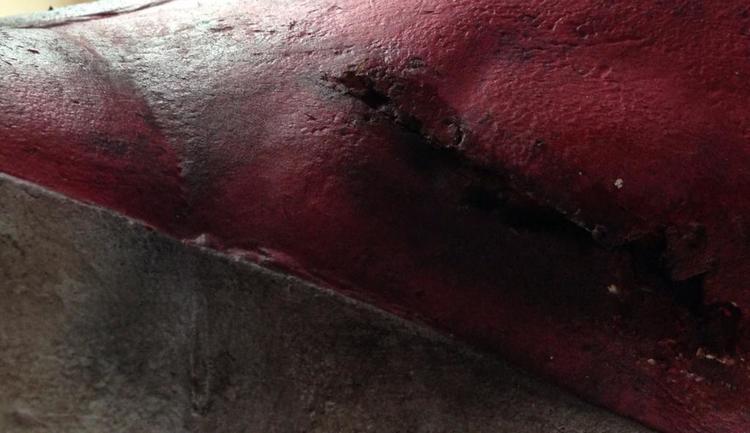 This is highly speculative. Katee Sackhoff threw a few hits at her superhero movie recently, which will definitely not be a marvel movie. Is it a DC film? Harley Quinn maybe? If it is a DC movie, then changes are it will feature on this timeline sometime.
The image above is one of the four clues she posted.
7. Sandman – 04/05/2019
Joseph Gordon-Levitt officially signed up for the Sandman movie. Levitt confirmed his involvement in the project, tweeting on December 16 2013:
"Ladies and gentlemen, I'm incredibly honored to be working with David Goyer, Warner Bros, and @neilhimself on SANDMAN. #Prelude."
Sandman is one of the most popular and critically acclaimed horror /fantasy comics of the second half of the century. The big screen adaptation had been in development since the mid-'90s with Roger Avary attached to direct. The idea was later scraped to focus on a potential small screen release, but nothing came of it. We will finally have the opportunity to see the "Sandman" movie courtesy of Warner Bros. developing "a series of lower-prominence comic books" for "relatively lower budget movies".
8. Man of Steel 2 – 06/14/2019

9. Flash and Green Lantern – 04/03/2020

10. Wonder Woman Sequel – 06/19/2020
Then, let's look at the superhero calendar for the next 6 years. If we list Marvel, DC and Sony together it is going to be a pretty fantastic 6 years!
Avengers: Age of Ultron

 – 05/01/2015

Fantastic Four

 – 06/19/2015

Ant-Man

 – 07/17/2015

Batman v Superman: Dawn of Justice

 – 03/25/2016

Captain America 3

 – 05/06/2016

X-Men: Apocalypse

 – 05/27/2016

Untitled Marvel Film (likely Doctor Strange

) – 07/08/2016

Untitled DC Film – 08/05/2016
The Sinister Six

 – 11/11/2016

Untitled Female Amazing Spider Film – 2017
The Wolverine 2

 – 03/03/2017

Untitled Marvel Film – 05/05/2017
Untitled DC Film – 06/23/17
Fantastic Four 2

 – 07/14/2017

Guardians of the Galaxy 2

 – 07/28/2017

Untitled Marvel Film – 11/03/2017

Untitled DC Film – 11/17/2017

Amazing Spider-Man 3

 – 2018

Untitled DC Film – 03/23/18
Untitled Marvel Film – 05/04/2018
Untitled Marvel Film – 07/6/2018
Untitled Fox Superhero Film – 07/13/2018
Untitled DC Film – 07/27/2018
Untitled Marvel Film – 11/02/2018
Untitled DC Film – 04/05/2019
Untitled Marvel Film – 05/03/2019
Untitled DC Film – 06/14/2019
Untitled DC Film – 04/03/2020
Untitled DC Film – 06/19/2020