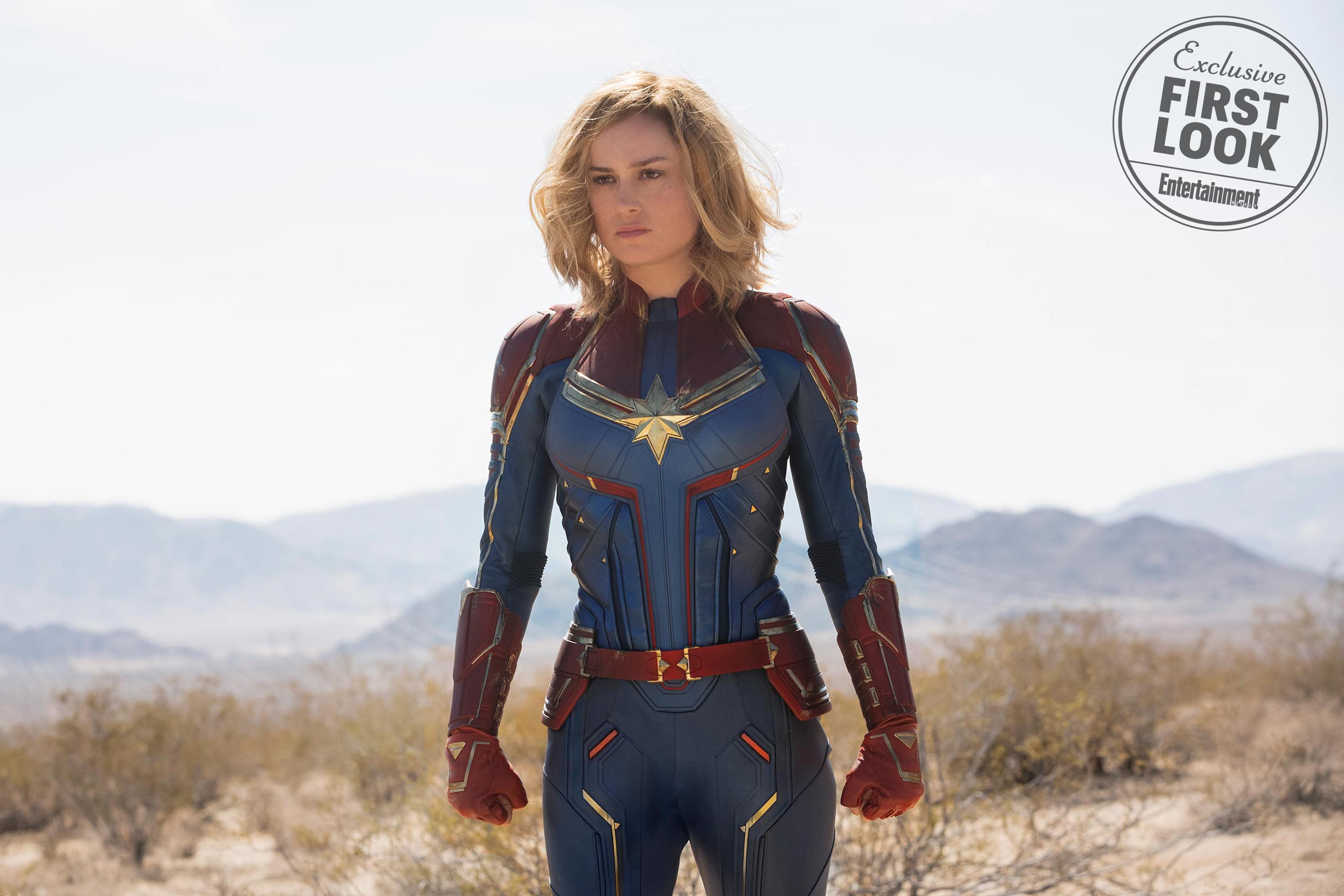 Captain Marvel is on the cover of Entertainment Weekly's latest issue, and we've got the first look at Brie Larson's part-Kree, part-human hero. Not only is Captain Marvel the first solo, female-led movie in the Marvel Cinematic Universe (trailing behind DC's Wonder Woman, ahem), but it's an introduction to the most powerful hero the MCU has ever seen.
Captain Marvel arrives next year on International Women's Day, March 8, capping off the longest wait we've had between MCU movies in years. We know Larson will be playing Carol Danvers, an Air Force pilot who becomes a superhero after a meeting with the Kree alien named Mar-Vell; her powers include flight, super strength, and the ability to absorb and use energy (meaning she can shoot energy blasts and lasers from her hands). From the photos, it appears she'll be a part of Starforce, a collection of elite Kree warriors brought together by the Supreme Intelligence.
Talking to EW, Larson said, "She can be aggressive, and she can have a temper, and she can be a little invasive and in your face. She's also quick to jump to things, which makes her amazing in battle because she's the first one out there and doesn't always wait for orders."
Jude Law plays Mar-Vell,  the source of Captain Marvels power and commander of Starforce, who mentors Carol. Law said in an interview that the motif of learnings plays a key role in Captain Marvel.
Nick Fury was still a lowly S.H.I.E.L.D pen-pusher in the 90s. Expect him to be magically de-aged and wearing 90s- appropriate fashion.  Earlier, in an interview to Vulture, Jackson said, "Who's really dead, and who's really in the flaky wind of Marvel dust, I don't know, but I do know there's a solution that they didn't even have to tell me, just because I know who Captain Marvel is and what all that means."
Here's the photos: