It pays to be one of the top A-list actors in Hollywood, in more than one way. Not only do you get the fattest pay cheques but you get to work with the best directors as well.  Leonardo DiCaprio has worked with them all. Clint Eastwood, Quentin Tarantino, Steven Spielberg, Martin Scorsese and Christopher Nolan to name a few. What can we look forward to after The Great Gatsby?
Here's 4 Great Movies Leonardo Di Caprio will star in next:
1. The Revenant
Phase: Production
Starring: Leonardo DiCaprio
Director: Ridley Scott
Release date: Jan 8, 2016
Also Starring: Unknown
Leonardo DiCaprio stars as real-life 1820′s fur trapper Hugh Glass in The Revenant based on Michael Punke's historical novel. Mauled by a bear and left for dead in the upper Missouri River, he survived on a solo journey across the wilderness to find those who abandoned him. Alejandro González Iñárritu directs and co-adapts the script with Mark L. Smith.
2. The Chancellor Manuscript
Phase: Development
Starring: Leonardo DiCaprio
Director: Marc Forster
Expected release date: Unknown
Also Starring: Unknown
Leonardo DiCaprio plays famous novelist Peter Chancellor in the Paramount thriller The Chancellor Manuscript. Peter Chancellor wrote a story about D.C. power brokers who are blackmailed into changing U.S. foreign policy. When some operatives get a hold of the manuscript and realize that their scheme has been discovered, they come after the novelist. The film is an adaptation of the Robert Ludlum political thriller
3. Brave New World
Phase: Development
Starring: Leonardo DiCaprio
Director: Ridley Scott
Expected release date: Unknown
Also Starring: Unknown
This movie looks particularly awesome. Ridley Scott and Leonardo DiCaprio are set to take on Aldous Huxley's 1932 ground-breaking novel Brave New World. The Huxley estate finally agreed to a feature adaptation of the late author's most well-known book. DiCaprio plays the lead character, John the Savage, in a future dystopia where all forms of human expression have been eliminated to achieve social stability.
There's already been a few adaptations of the famous Huxley Novel. First was the Brave New World 1980 film, as well as the 1998 television movie starring Peter Gallagher and Leonard Nimoy.
As great as this sounds, Ridley Scott himself was not too optimistic in getting this movie done. Back in 2012 he was quoted saying:
"I don't know what to do with Brave New World. It's tough. I think Brave New World in a funny kind of way was good in nineteen thirty-eight, because it had a very interesting revolutionary idea. Don't forget it came shortly before or after George Orwell, roughly the same time. When you re-analyze it, maybe it should stay as a book. I don't know. We tried to get it…"
4. Travis McGee aka The Deep Blue Goodbye
Phase: Development
Starring: Leonardo DiCaprio
Director: Unknown
Expected release date: Unknown
Also Starring: Unknown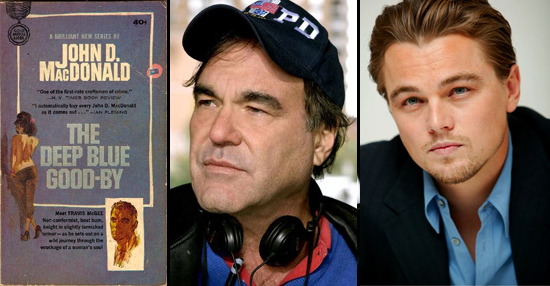 Adapted from the crime novel by John MacDonald, The Deep Blue Good-Bye centers on Travis McGee, a bachelor who recovers property and money for his clients. In the first book of a series, McGee is on the hunt for a treasure that a soldier hid in the aftermath of WWII. Oliver Stone has been rumored to Direct this movie. There's a few novels in the series to pick from. If this is done right we might see Leonardo in more than a couple McGee movies:
1964 The Deep Blue Good-By
1964 Nightmare In Pink
1964 A Purple Place For Dying
1964 The Quick Red Fox
1965 A Deadly Shade of Gold
1965 Bright Orange for the Shroud
1966 Darker than Amber
1966 One Fearful Yellow Eye
1968 Pale Gray for Guilt
1969 The Girl in the Plain Brown Wrapper
1969 Dress Her in Indigo
1970 The Long Lavender Look
1972 A Tan and Sandy Silence
1973 The Scarlet Ruse
1974 The Turquoise Lament
1975 The Dreadful Lemon Sky
1978 The Empty Copper Sea
1980 The Green Ripper
1981 Free Fall in Crimson
1982 Cinnamon Skin
1985 The Lonely Silver Rain
Also See:
If you enjoyed this post please Share it!