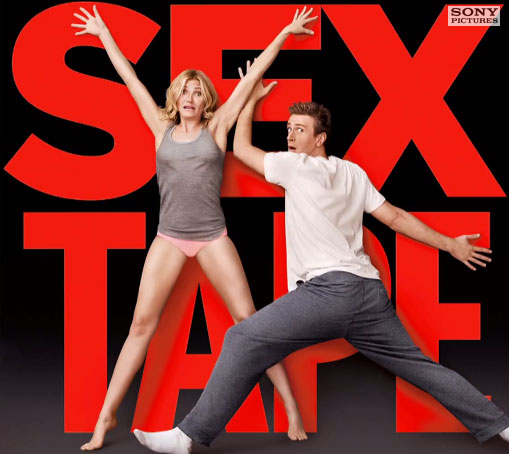 No, it's not a sex tape with Cameron Diaz in it, we have to wait for that one geeks. What we do have is a comedy movie called 'Sex Tape' starring Cameron Diaz and Jason Segel. We have the red band trailer right here for your enjoyment, and it looks like we are going to be for one crazy-sexy ride. Dog attacks, super-thrusty sex and Rob Lowe blowing lines of cocaine: The upcoming comedy Sex Tape has all that and much, much more.
The raunchy premise of the movie — married couple makes a three-hour sex tape to revive their spark . The video ends up being shared with multiple people on Apple's iCloud, and the craziness ensues.
Also See: Top 10 Sexiest Cameron Diaz Movie Scenes
"When Jay (Segel) and Annie (Diaz) first got together, their romantic connection was intense – but ten years and two kids later, the flame of their love needs a spark. To kick things up a notch, they decide – why not? – to make a video of themselves trying out every position in The Joy of Sex in one marathon three-hour session. It seems like a great idea – until they discover that their most private video is no longer private. With their reputations on the line, they know they're just one click away from being laid bare to the world… but as their race to reclaim their video leads to a night they'll never forget, they'll find that their video will expose even more than they bargained for."
Expect a lot of scenes with a scantily clad or completely nude Cameron Diaz. Here's a few screenshots:
Jay: "It went up. It went up to the cloud!"

Annie: "and you can't get it down from the cloud?"

Jay: "Nobody understand the cloud!"
Sex Tape hits theatres the 25th of July, and be sure not to miss Cameron Diaz in Sex Tape.