Blizzcon happened this weekend and if you missed it then you came to the right place. Our favorite gaming company once again did not disappoint with its annual gaming convention, giving the fans plenty to see, enjoy and cheer for. We'll take you through everything: from the Warcraft movie trailer details, to the new WoW expansion Legion announcements, to the ESports championships for Star Craft 2, and more! It would be impossible to mentioned everything that was announced and revealed, which is why you need to go to Blizzcon next year!
We predicted everything you can expect to see at this year's Blizzcon a while back, and we were not far of… Here's our Blizzcon 2015 Recap – Everything you need to know:
Warcraft Movie
After the sneak teaser released late last week the full trailer in all its glory was released. It is amazing! The feedback is extremely positive, breaking once and for all the fears of the failure from past gaming adapted movies. Have a look for yourself below. The animation of the orcs and the extreme saturation of the colors give it such a uniquely stylized look that stands out and hearkens back to the games. This is shaping up to be the movie that fans of the Warcraft series deserve. It does not disappoint:
The guys over at Comingsoon.net had a chance to get some interviews with the cast, here's a recap:
Dominic Cooper, who plays King Llane Wrynn of the Alliance, talked about the scale of the film and fighting against huge CGI Orcs. "You had to keep being reminded of the scale of everything. It sometimes felt like, if they're that big would we really have any chance? At all?" He explained how the production helped them. "There was a very clever method on set, which was that, even on the monitors – you would have seen them on set – we had a basic crossfade effect on the screen of what the things may look like. Not anything to do with how they actually look, but an example of the size of them. Watching it today though, it was just mind-blowing, because for the first time ever, we understood. I mean, they had that in their mind. They just had to keep reiterating it to us. This is what you're fighting. This is how hard it would be. This is what you're looking it. This is what you can see. It's always hard doing that stuff, but actually, in this particular film, as you saw when you were on set, there were proper physical sets and elaborate, brilliant costumes, so you felt much more immersed in in that in a green screen box."
Toby Kebbell, who plays Durotan, is an old hand at motion capture having played Koba in Dawn of the Planet of the Apes. He talked about that side of performance. "It helps to have the physical sets, but if you go into your house, if you like something in your house, you're going to go, I like that thing and you're going to pay attention to it," he said. "But everything else is actually going to be the environment you're in. What starts to happen, I think, is people go, oh, there is this grand thing. But if' I'm an Orc, I've seen these big caves, so it matters not a jot to me. I've walked these thousand miles. I've seen a Frostwolf. So when I'm standing next to one of the wolves, I just lay my hand on it. No need to be admiring it. I'm used to it. I'm wearing one. I'm wearing my original wolf. I know them. So those things, that's what's beautiful about motion capture. You get to do a very subtle performance. That's the benefit of Duncan. Sometimes you'd hear, 'Okay, you walk in and you're like, wow!' But you wouldn't say, 'wow.' That's your existence. It's subtle and nuanced and that's where motion capture is so fantastic."
Paula Patton plays Garona, a half-Orc, half-human who's loyalty is being shifted between the people she grew up with and the humans she's come to admire. Patton talked to us about how much the sets helped with creating her character. "For me it was great. For me, I need that. I think it's really challenging for actors to be in a space where you can't see any of it. There is something about being in the world that helps you feel like you're there mentally and emotionally. It was a huge benefit. Duncan Jones, our director, was great because even though the guys had to wear their blue jumpsuits, he'd always keep – I guess it wasn't 'lifelike,' but a sculpture of what the Orcs looked like and what our main characters looked like so you were constantly reminded of that and that really helped you be in the moment." In terms of her size, she explained that though she's half-Orc, she's not taller than the humans. "I'm far more muscular, and my senses are more acute; my hearing, my sense of smell, my intuition and maybe my strength, but size-wise I'm not that different from the humans. It's far different from the Orcs, which is what makes me such an outsider. And I clearly don't look human."
Brown, who plays the Orc War Chief Blackhand talked about the movement and how important "Orc Camp" was. Notary had all the actors playing Orcs work in a movement camp so they had the same feel. "I had a couple of difficult moments because of the task I was supposed to accomplish. It was throwing a horse, I think. There were elements I didn't have on me, which were costume elements I didn't have on me and weight elements. I was trying to do it as well as I could. But they solved it. It was a great, granular process with real, practical problems that you can solve instantaneously or that you can spend weeks on. It was a really great process and I loved it. I'd do it again in a second."
World of Warcraft – Legion
The two biggest announcements on the new Legion Expansion was a release date, and the new introduction cinematic, which you can both see below. World of Warcraft: Legion is filled with features and content that will transform Azeroth's heroes into Legion-slaying avatars of vengeance, including:
New Hero Class: Demon Hunter—Unleash the demon within as an all-new melee hero class gifted with preternatural mobility—and the ability to metamorphose into hellish new forms.
New Feature: Artifact Weapons—Smite the Legion with class-specific weapons of lore. Unlock awesome abilities and traits, and customize your weapon to suit your needs.
New Continent: The Broken Isles—Discover the fate of a lost night elf civilization, confront twisted fragments of the Emerald Nightmare, and hunt agents of the Legion in all-new zones.
Boost to Level 100—Come fully prepared to battle the Legion with a level-100 character boost, and fight alongside your friends in this epic new chapter of World of Warcraft—available immediately upon pre-purchase*.
•                              
In addition to the Standard Edition, the new expansion is available in a Digital Deluxe Edition, which contains a cache of Legion-inspired in-game bonuses for World of Warcraft and other Blizzard games (available upon or before the expansion's launch), including:
World of Warcraft – Illidari Felstalker Mount and Nibbles Pet—Stalk the invading demonic forces atop one of the Burning Legion's own twisted hounds of war, and summon a delightfully demented companion to keep you warm by the fel fire—both available immediately upon pre-purchase.
Heroes of the Storm – Felstalker Mount—Charge down the lanes of the Nexus and wreak havoc on the opposing team astride this fierce fanged terror.
StarCraft II – Fel Protoss Portraits—Take back Aiur in infernal style with psionic-infused StarCraft II portraits of Illidan and Gul'dan.
Diablo III – Wings of the Betrayer—Equip your hero with Illidan's wings and strike terror into the hearts of Sanctuary's demons.
World of Warcraft: Legion will also be available in a retail-only Collector's Edition, which includes the digital bonuses from the Digital Deluxe Edition along with a full-color hardcover art book, a behind-the-scenes two-disc Blu-ray/DVD set, a CD soundtrack, and a Legion mouse pad. Supplies are limited; players should check with their local retailer for pre-order details and availability.
Pre-purchasing Legion will also grant early access to the Demon Hunter prior to the expansion's release.* During the pre-launch early-access period, players will be able to complete the Demon Hunter's unique starting experience, achieve level 100, and take on high-level Warlords of Draenor content—leaving them fully prepared to join their allies on the Broken Isles the moment the expansion launches. Further details on the Demon Hunter upcoming early-access period, including the timing and duration, will be announced at a later date.
Players who wish to prepare multiple characters for battle against the Burning Legion also now have the option to purchase additional level-100 character boosts directly through the in-game Shop. For further details on character boosts, including information on the gear, skills, and Garrison upgrades boosted level-100 characters will receive, check out our tutorial video.
Apart from the new Demon hunter class, here's a few new additions you can expect to see in Legion:
Revamped Transmogrification section
End-game revamped. Watching the Legion systems presentation by Ion Hazzikostas, we came to a simple realization: the new outdoor endgame system for Legion is essentially the Diablo 3 bounty system merged with the Garrison Follower mission table, if you were the one doing those missions instead of your followers. The specific goal is to keep people from feeling compelled to try and do everything while giving them the ability to do practically everything.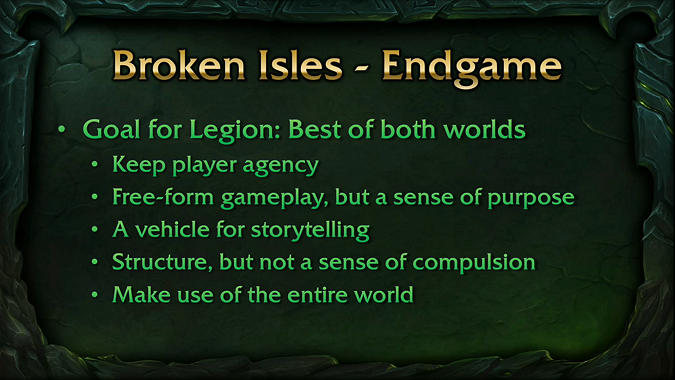 All Broken Isles leveling zones scale to your level. This means the expansion will now have a much more open world feel, with zones scaling to match the level of the player. This allows players to level through each zone as they choose — instead of going to Azsuna at level 101 and Highmountain at level 107, each zone can be explored in whatever order the player chooses. This also means you can play with people at the same level, or even who are above or below you in level — the zones will be scaled to each of you individually, based on the scaling technology they've developed for things like Timewalking.
Talent system revamp and additions with 100's more!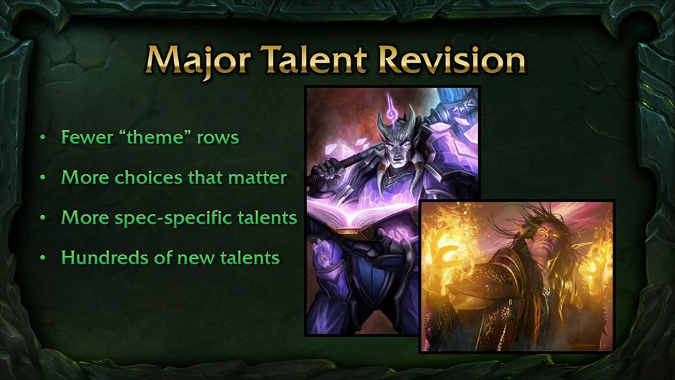 Tri/Quad spec in Legion. This is a big one! "As a matter of fact we're letting you tri-spec and quad-spec in Legion. We're actually going to smooth out the UI, too."
Demon hunter will have one of 3 specs:
Artifact Weapons is a big deal in Legion. Checkout Blizzards website for all the info and how this works. Wowhead also has a neat breakdown on all the artifact weapons you can use.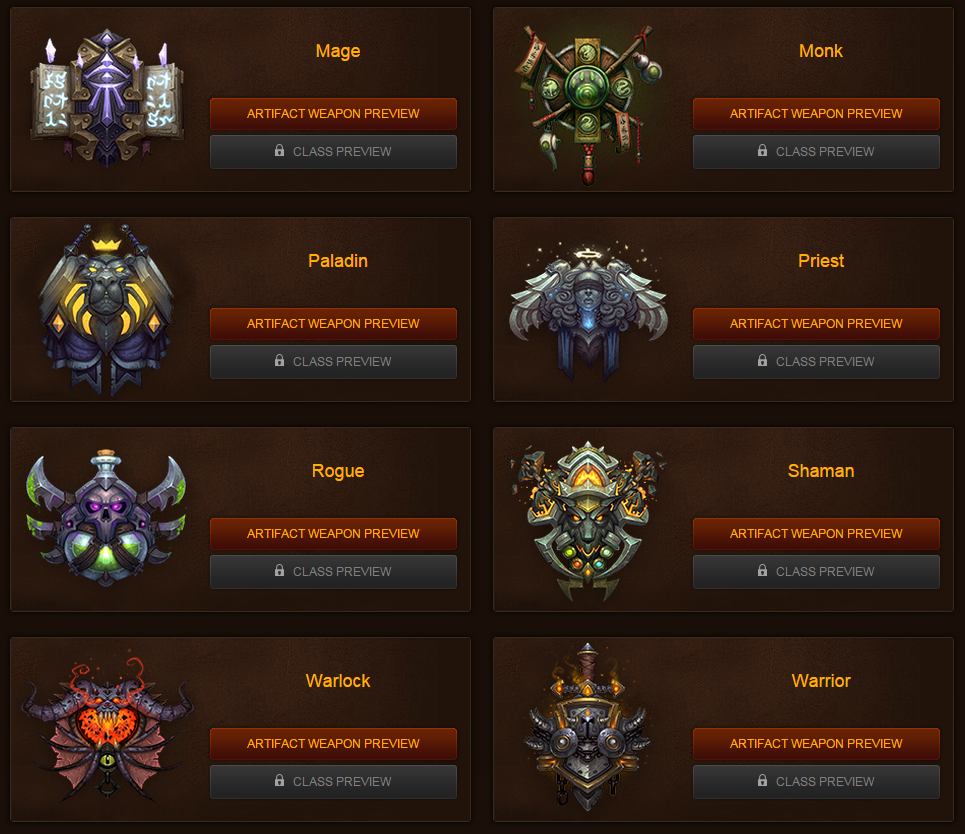 Heroes of the Storm
New Heroes announced: Genn Graymane, Lunara, and Cho'gall
New Maps: Towers of Doom
Arena Mode
But if you want a look at all of this new content in action, you'll want to check out the images on BlizzardWatch Here.
In the culmination of the Road to Blizzcon Heroes of the Storm championship, Cloud9 did the North America region proud. They swept Europe's Team Dignitas in the finals, winning three times in a best of five to claim the very first Heroes World Championship trophy.
They had a stunning turn at Blizzcon, even choosing the risky hero Murky in an earlier match, which earned them their second loudest cheers of the night from the hometown audience. In the finals their team composition was relatively safe, but very effective. The last match on the Garden of Terror map featured two Warriors, Sonya and Leoric, plus arguably the strongest Support in the game, Uther. This was bolstered by Valla on DPS, and an Abathur pick, which helped them keep the pressure in relatively vacant lanes.
For their stellar play, Cloud9 earned $200,000 and a trophy bearing the Heroes of the Storm logo. Well played.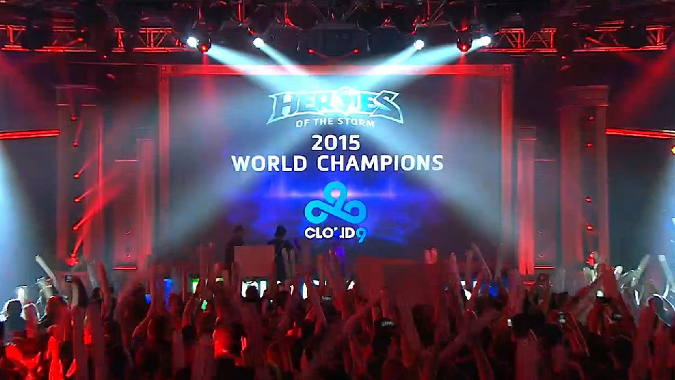 Overwatch
Overwatch graphic novel which will explore the relationship between Soldier:76 and Reaper among other things
A series of one-shot short comics set in the Overwatch universe. Expect short one piece comic stories that explore elements of the setting. The sample art features Roadhog and Junkrat, so it's likely the two of them are featured in some way in one of these comics.
Overwatch's diversity will grow, include gay characters
Diablo 3
All of Blizzard's titles received big announcements at the Opening Ceremonies of BlizzCon 2015. Except one. But while Diablo 3 did not get any major expansion love, patch 2.4 was announced at their Friday panel and it includes a great deal of new content and features. And it's hitting the Diablo PTR by the end of the week.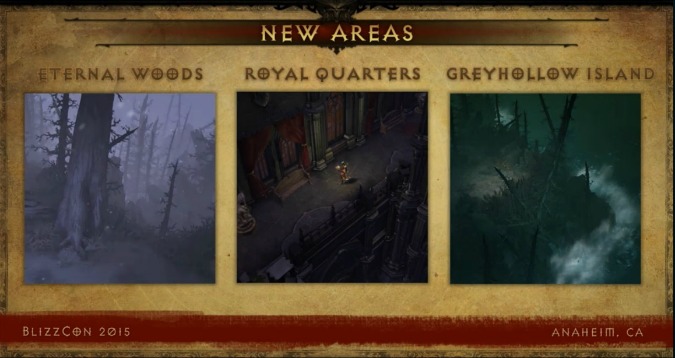 New Areas and Monsters
First up, Matthew Berger, Senior Level Designer, took the stage to talk about two new areas and one new zone coming to Diablo 3. Eternal Woods and Royal Quarters are the new areas off of existing maps and Greyhollow Island is a new zone in Act V.
The Eternal Woods exists off the Ruins of Sescheron in Act III and are the hunting grounds of the yeti and the reanimated corpses of their victims. The Royal Quarters is in Leoric's Manor Courtyard in Act I. The cultists have cleared off that stairwell near the entrance that was previously blocked by rubble. This leads to King Leoric's private quarterers where, well, we're not quite sure what awaits. Matthew Berger explains it as "the delicious kind of [monster] density you love plus maybe a secret."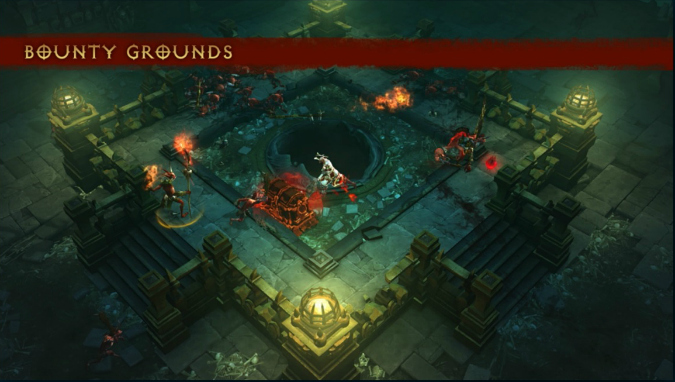 Greyhollow Island is an entirely new zone in Act V with 7 new events, Adventure Mode-friendly storytelling, and 16 new monsters. The Bone Breaker is the Sasquatch cousin of the Yeti. Instead of grabbing you and throwing you to the ground, it grabs the ground and throws that at you, then grabs both you and the ground and slams that down as well. And not everything is a new creature. Those annoying wasps are brought back as traps called the Glowing Death. It is full of wasp larva and if you accidentally damage it, four fully grown wasps spring out to attack you.
New Bounties
Patch 2.4 will introduce 175 new Bounties for your hungry, hungry Kanai's Cube. They are spread mostly over Act IV and V and some in Act III. Some of these will be the standard cursed chests events, some are going to be in Greyhollow Island and some will be in the new Bounty Grounds. Bounty Grounds are like Rifts. You can take a red portal to one of six new dungeons.
An example of one has six cursed shrines spread out in one of the Grounds. When you click on them, bad things happen and monsters will also attack you. If you can clear all six cursed shrines within the timer, you get a bonus chest. Another example is a play on Treasure Goblins. Burrowers run away from you and you have to kill them within a time limit or they respawn.
Systems Improvements: Buff UI overhaul, experience balancing, new gold sinks
Senior Technical Game Designer Wyatt Chang then took the stage to explain the systems changes coming to the game. Based on feedback received from players, they are making a number of improvements to the game. The first is an improved buff UI. They recognize that you don't want valuable screen space taken up by passive buffs telling you they are active. So in patch 2.4, if you cast a passive buff, the skill icon in your hotkey bar will glow around its border to let you know it's active. And if your passive skill also has an activation ability, a duration bar will appear directly over you skill icon when you use it instead of taking up a buff slot. If you join a group and receive a number of passive buffs, they will all be stacked into one buff icon which you can mouse over to expand.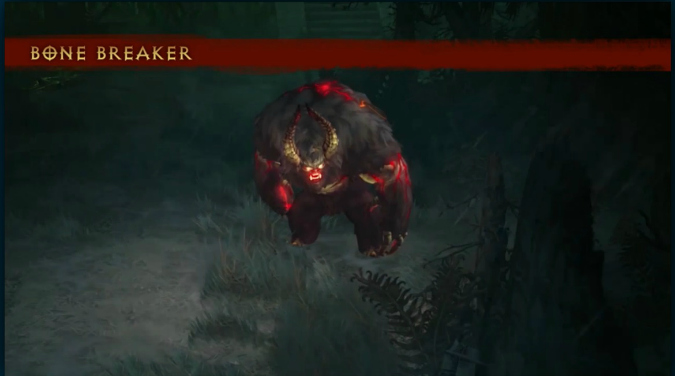 Systems Improvements: Buff UI overhaul, experience balancing, new gold sinks
Senior Technical Game Designer Wyatt Chang then took the stage to explain the systems changes coming to the game. Based on feedback received from players, they are making a number of improvements to the game. The first is an improved buff UI. They recognize that you don't want valuable screen space taken up by passive buffs telling you they are active. So in patch 2.4, if you cast a passive buff, the skill icon in your hotkey bar will glow around its border to let you know it's active. And if your passive skill also has an activation ability, a duration bar will appear directly over you skill icon when you use it instead of taking up a buff slot. If you join a group and receive a number of passive buffs, they will all be stacked into one buff icon which you can mouse over to expand.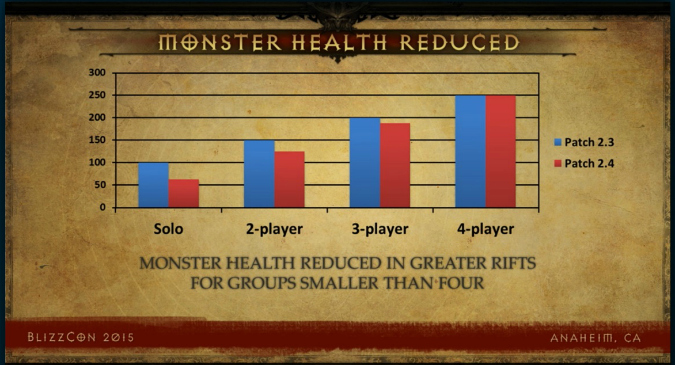 Costume and Talent Contests
Every year at BlizzCon, the Talent and Costume contests prove the Blizzard community is brimming with talent. Hosted by Wil Wheaton live from the Main Stage at the Anaheim Convention Center and broadcast to viewers around the world, this year's contestants shone bright for all the world to see.
Please join us in congratulating this year's winners of these two contests, as well as the winners of our online Fan Art and Movie contests. Their creativity and passion have helped to make BlizzCon 2015 another great one for the history books.
Also See: Jessica Nigri Sexy Deathwing Cosplay at Blizzcon 2015
First Place: Pappa Cosplay – "Medieval Marine"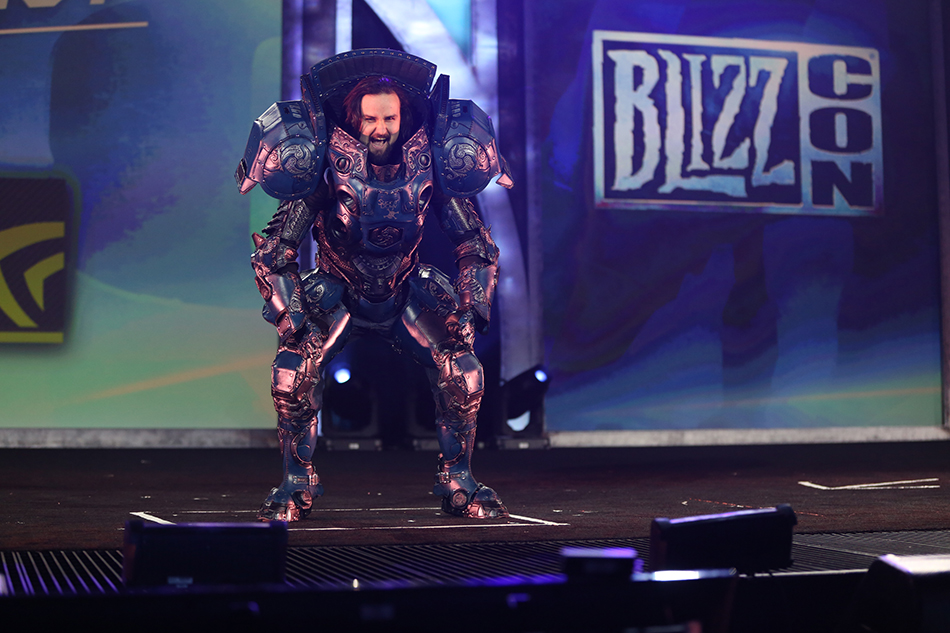 Second: Spiffzaya – "Doom Armor Crusade"
Third: Fabricator Djinn- "Imperius"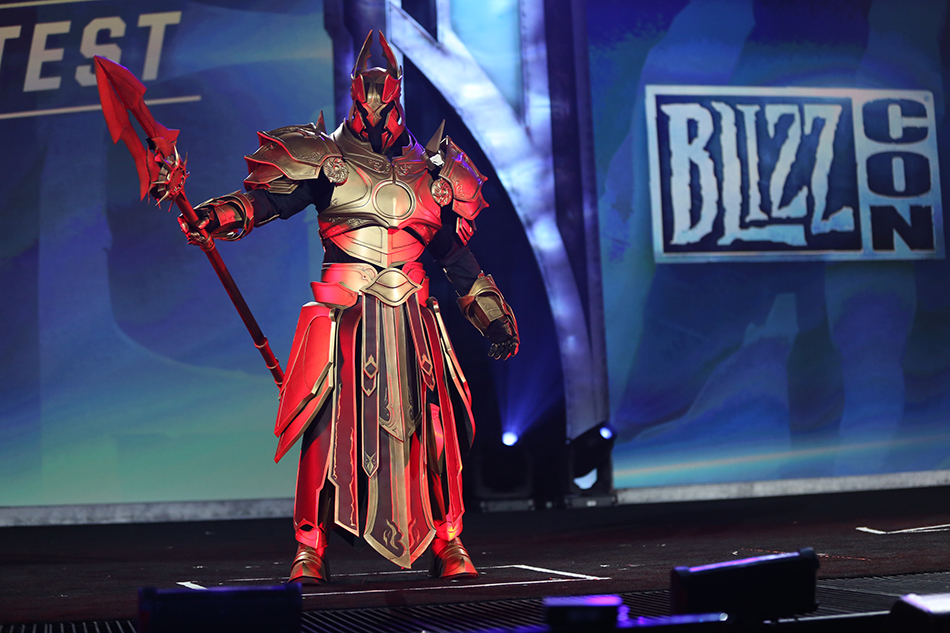 Fourth: Kelton Chang – "King of Blades"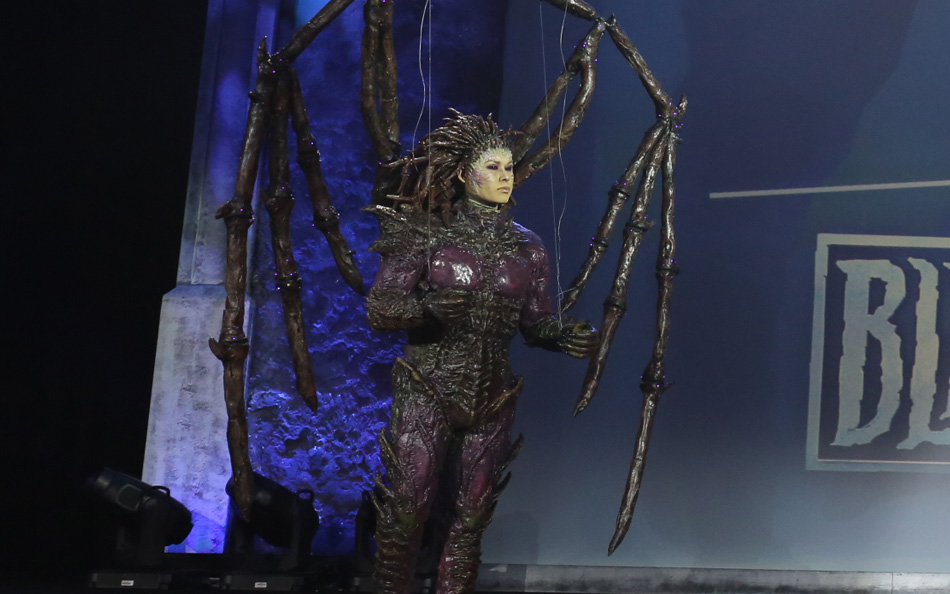 Other
Activision Blizzard Studios Announced
We just received a press release announcing the launching of Activision Blizzard Studios, a studio "devoted to creating original content based on the company's extensive library of iconic and globally-recognized intellectual properties." And as you might have guessed, that means a Call of Duty cinematic universe is in the works.
First up, though, is a TV show called Skylanders Academy based on the popular Skylanders game. Justin Long, Jonathan Banks (Breaking Bad), Ashley Tisdale, and Norm Macdonald will provide voices for the animated series.
There aren't any details about the plans of the Call of Duty cinematic universe (other than referring to it as "robust"), but it sounds like Activision Blizzard Studios is taking a page from Ubisoft's playbook here, making sure they retain creative control over their mega-popular games and bringing them to the big screen themselves instead of just licensing out the properties to other studios and watching them get flushed down the toilet. It remains to be seen if Activision Blizzard Studios will be able to make a good movie adaptation from its properties (which also include Diablo, Hearthstone, and StarCraft), but we may be on the brink of a video game movie revolution that could turn the tables on the notion of all video game movies being terrible.
Activision Blizzard Studios is another important step in the company's strategy of expanding the platforms through which it offers its compelling intellectual property to existing fans and new audiences around the world.
That's it for another Blizzcon! What did you guys think? Blizzcon 2015 Recap – Everything you need to know!