The 2014 BlizzCon is already dubbed as one of the best BlizzCon's to date, and although it pains us to not have been there, we were absolutely blown away at the entire show, announcements, performances, competitions and presence that Blizzard manages to give it's fans every year. The weekend, held at the Anaheim Convention Center gave us massive update announcements on all current Blizzard games, as well as the announcement of a new…FPS style game. We're pretty excited for Blizzards road ahead.
Here's the entire opening ceremony…

BlizzCon 2014 Complete Recap – Everything You Missed:
1. Overwatch
Blizzard announced its first new franchise in 17 years, Overwatch. It's a team-based, 6v6 multiplayer shooter with a focus on "fun, over-the-top" characters. The game was introduced with a gorgeous CG trailer showing off Pixar-like animation of the Overwatch, "An elite international task force charged with ending the war and restoring liberty to all nations."
Here's the announcement Trailer by Chris Mentsen:

Overwatch is set on a near-future Earth, with a cast of heroes including "mercenaries, scientists, and adventurers" that do battle in arenas like the streets of London or the pyramids of Egypt.
Following the announcement, we were shown a video of Overwatch's gameplay. One team prepared defenses while the opposing team used a variety of powers and skills to capture objectives. Some characters are equipped with healing streams, others carry around massive energy shields, and others can toss down turrets.
Tracer, for example, is a former British test pilot who can teleport, drop bombs, and reverse time. Another character, WInston, is a genius ape who uses a jetpack to take to the rooftops and storm into battle.
Gameplay trailer for Overwatch:

12 heroes are playable at BlizzCon, with more to come. The beta is coming in 2015. You can sign up now at playoverwatch.com.
After the reveal of Overwatch at the main Blizzcon event, Game Director and VP of Overwatch, Jeffrey Kaplan, took the stage to share some additional facts about the design choices behind the new shooter:
It's 6v6 For a Reason – Through game testing, Blizzard found 6v6 to be the "magical number." With larger teams, they found it easy to feel like you weren't having a big enough impact on the match. Epic moments were squandered when a crowd of allies or enemies bursted in and overcrowded the battlefield. On the opposite end, with smaller teams, it was too easy to lose a match for your team if you were having an off day. With the 6v6 size, you can be off your game for a few rounds and not doom your team to failure.
You Can Swap Heroes Every Single Life – Once you select a character, you're not locked into that character for an entire match. In fact, Kaplan says the game is designed so you're encouraged to swap roles as often as needed.
There is No Deathmatch – Kaplan said Overwatch does not work with Deathmatch. The developer didn't want people to focus on how many kills they could get as individuals, but rather on what players could accomplish when they bonded together. The team modes we've seen are Payload and Point Capture. In Payload, you move the bomb to a delivery point, and the defenders must hold off that assault until time runs out. In Point Capture, two teams battle to control the map. One team is trying to capture critical objectives, while the other must maintain control until time runs out. Blizzard said it wanted to keep the modes simple.
Robots Messed Up Everything – Overwatch is set 60 years in the future. 30 years before these events, robots went crazy and caused a global crisis (as robots do). Soldiers, scientists, adventurers, and other "oddities" banded together to restore peace, but they were disbanded for reasons Blizzard wouldn't spoil. In the events of the game, evil is back, and the Overwatch is needed again.
Characters Fill Very Specific Roles – There are four main roles for the characters you'll play in Overwatch. Offense, Defense, Tank, and Support.
Offense heroes are quick and will usually get to the objectives first. They put out great damage and can take you out quickly if ignored.
Defense characters are best at guarding locations and creating choke points. A lot of shooters will let the map design do this, but in Overwatch, you can establish your own front with these characters' abilities.
Tanks are (you guessed it) protectors with a strong ability to survive. They have armor which mitigates incoming damage by 50%. "These are the guys you want to follow in," said Kaplan.
Support heroes heal, buff, and add utility to a team. Kaplan said he expects this role to be popular with people who aren't normally into the shooter genre.
2. StarCraft II – Legacy of the Void

Blizzard announced the third and final installment in the Star Craft franchise, Legacy of the void. Although the name's been known for quote some time, we we surprised at the amount of changes included in this expansion. Apart from the few new units for each race, there are a substantial amount of tweaks to current units and game-play mechanics that we're sure will throw the current tournaments and top strategies into chaos, which may just be exactly what Star Craft needed.
Check-out the official Blizzard forums for more into on the Campaign and Multiplayer preview.
Here's the official trailer:

Checkout all the new Zerg, Protoss and Terran units:

BlizzCon 2014 Complete Recap – Everything You Missed
3. Star Craft WCS Championship Series Finals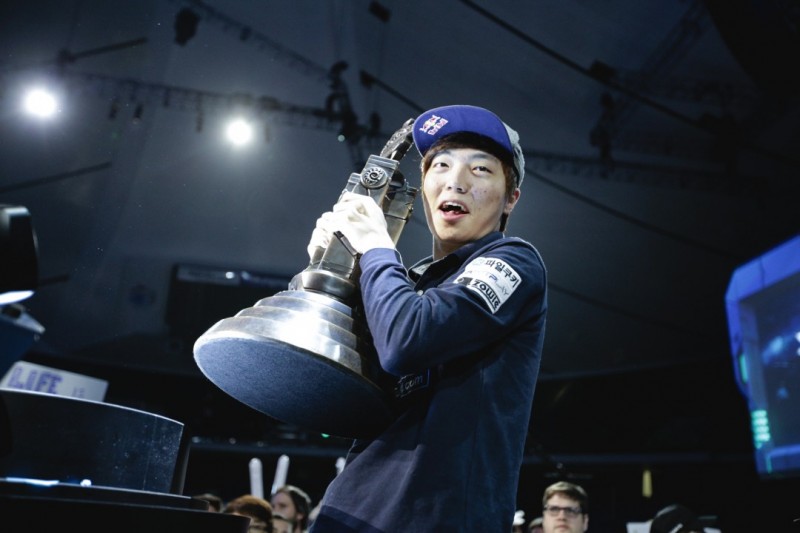 The 14th seed in the WCS Global Finals, StarTale's Life is the 2014 WCS Global Champion after controlling a five game series against Team Acer's MMA to cap off a 2014 campaign before a capacity crowd at the Anaheim Convention Center arena at BlizzCon.
After what could easily be described as a candidate for Series-of-the-Year against TaeJa, Life seemed to have no problems adjusting to the veteran Terran's tactics, style and timings, doing what he wanted seemingly at will. Even the game he dropped against MMA, could have gone Life's way if he'd shown a bit more patience and not taken the bait the WCS Europe champ left out there for him.
The 17-year old wasn't a dominant presence in the WCS system this year, but he was good enough to get into the biggest tournament of them all and he got on the hottest streak possible when it mattered most. He didn't wilt under the pressure of the bright lights of BlizzCon, but it still doesn't seem like the magnitude of the accomplishment has hit him yet.
"There's not going to be any celebration right away," Life said. "I'm going to work and practice for the next tournament which should be Dreamhack."
There's no rest for the victorious.
MMA missed on his pressure opening with Hellions again. Life is laser focused to take advantage of every less-than-perfect play from MMA. With the wind at his back, the Zerg was able to hide his low tier units in an unscouted location and launch a an attack that knocked MMA out of the game, out of the match and out of the tournament to become the 2014 WCS Global Champion.
Life wins 4-1 to become the WCS Global Champion. You can watch the entire best of 5 matches on the official BlizzCon Live Stream page.
4. HearthStone

A lot of new content is coming to HearthStone in 2015. Powering up and exploding onto the scene: Goblins vs Gnomes, Hearthstone's first expansion!
Expand-o-Matic 5000! Goblins vs Gnomes throws players smack dab in the middle of a rivalry between cunning goblin engineers and their eternally-tinkering gnome counterparts. These pint-size foes don't always have the upper hand over the myriad mechanical contraptions they cook up, and the results can be . . . unpredictable.
Over 120 New Cards The expansion brings a slew of brand-new cards that are ready to wreak a wealth of mechanized havoc on your opponent:  Our own tinkerers and explosives aficionados have assembled over 120 new cards that will be sure to throw a wrench in your opponent's gears—literally. Check out all the new cards over at HearthPwn.
Here's the official trailer for the Goblins vs Gnomes expansion, with some actual game-play below:


With the new cards and expansion, also comes a new game board: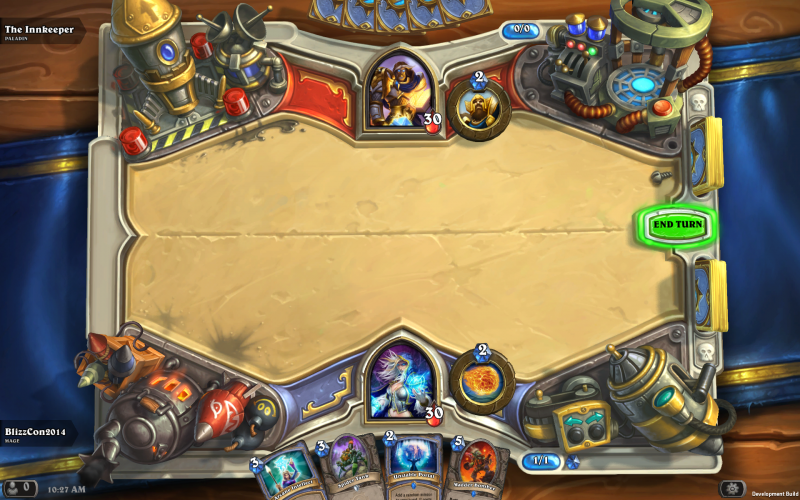 5. HeartStone World Championships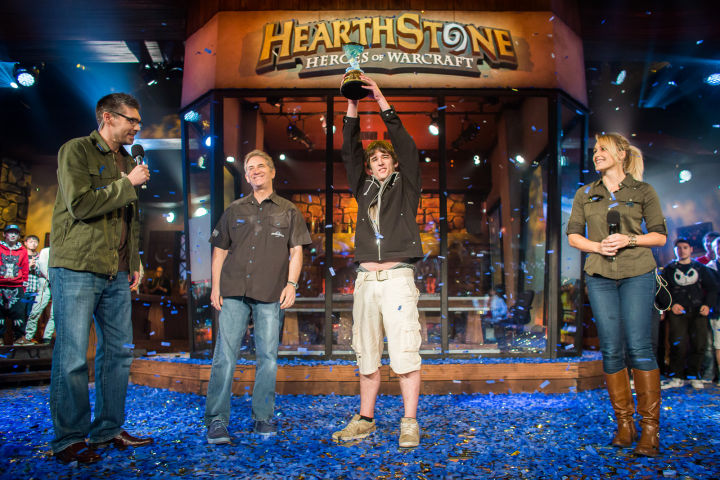 Congratulations to Firebat on winning the Hearthstone World Championship at BlizzCon 2014!
Many capable card-slingers set out with the goal of making it to the Hearthstone World Championship at BlizzCon. After months of dueling, qualifiers across the Americas, Europe, China, Korea and Taiwan gathered to test their card-slinging mettle.
16 skilled players emerged victorious from those tournaments and traveled to California to duel on the grandest stage in competitive Hearthstone. After four action-packed days of Hearthstone, Firebat has won the Hearthstone World Championship! Please join us in raising a mug in congratulations!
Here's the final game:

6. Heroes of the Storm
Heroes of the Storm received a few updates as well. New heroes, new maps, and new features…
Draft mode is coming, with no duplicate heroes and no bans. Ranked play is coming with two leagues: Hero league (any size group queue) and Team league (fixed size teams only). There are seasons, points, and a separate skill rank. If you leave games too often, you will only be matched with other people that leave games too often. You can undo this by not leaving games.
Sound of the Nexus
Back in Warcraft III, the average lines a unit spoke was just 20. For Heroes, its 300!
Chain Lightning was created with fireworks, and a tape measure.
The new map Sky Temple takes place in a brand new universe, never before seen in another Blizzard game, and Tomb of the Spider Queen takes place in the save universe as sky temple.
Lost Vikings are the first Insane Difficulty hero.
Bounties, part of the kill streak system, are still on the list of things to do.
No current plans for any story mode stuff like Starcraft campaigns.
The Heroes development team is Team 1, the same team which creates Starcraft II. They're currently working on Legacy of the Void and Heroes at the same time.
Both games have dedicated content designers, and artists, but share some systems people. People move around a bunch, but there's normally 100 people working on Heroes.
7. World of Warcraft
With the new expansion, Warlords of Draenor a mere week away, the panel saw a host of interviews and developer discussions on the new expansion. Most notable was the documentary that they released called "Looking for Group" which gives a great, no amazing look back at the history of Blizzard and the development of World of Warcraft. What nostalgia we felt when watching it. The documentary celebrates 10 years of adventure, camaraderie, and /dancing on mailboxes all around Azeroth. This decade-spanning archive explores the history of WoW with the people who create it, collects stories from players around the world, and takes you into corners of Blizzard and the WoW community you've never seen before.
8. Contest Winners
Hosted live from the Main Stage at the Anaheim Convention Center and broadcast to viewers around the world, the Talent and Costume contests are a highlight at BlizzCon — and this year proved no different. We laughed, we cried, we cheered. More importantly, we were amazed by the exceptional amount of talent displayed by all of our participants.
Please join us in congratulating the winners of these two contests, as well as the winners of our online Fan Art and Movie contests. Their creativity and passion have helped to make BlizzCon 2014 one to be remembered.
 9. Warcraft Movie
Host Chris Hardwick kicked off BlizzCon 2014's Warcraft movie panel by introducing director Duncan Jones and Charles Leavitt. The stage had several Stormwind guards in full armor – with actual people inside – and a few orc statues.
Jones recalled playing the Warcraft games when he was younger, and when he heard that Sam Raimi was starting work on a Warcraft movie, he got excited to take on the job. When asked how to make it a movie, he compared it to making a great movie out of Facebook by finding a great story. Warcraft has so many stories from over the years that it was a matter of finding the right one, and they ended up deciding on going back to the beginning where the Orcs and humans began their feud.
All the character roles and props were also introduced, check-out our Warcraft movie details post here for more info.