The month of love is upon us again and now is a good time to get the perfect Geeky gift for your other half. Or you can muster up enough courage and get something special for the person you've had your eye on since last year but never had the guts to do anything. If you have no idea what to get them fear not, we have you covered: Here's our Great Geek Gift Ideas for Valentine's Day:
1. Zombie Valentine's Day Cards

Looking for something small yet thoughtful? These Valentines Day Zombie cards is just what you need. There are four different cards in each pack of Zombie Valentine's Day Cards, so you can make sure each person on your list gets just the right card. The art is in the style of classic cards, but with zombies and gore added in. Our favorite is the Lady and the Tramp one – just for the worry of what the boy zombie would push over to the girl zombie with his nose. Of course, with each set of Zombie Valentine's Day Cards you also get envelopes to facilitate the sending of them – absolutely free! Sorry we use that joke three times on this page; it just tickles us. Just like Zombie Valentine's Day Cards will tickle the pus-filled, filth-oozing, maggot-infested, love-gorged, chocolate center of your cold, undead heart. Awww.
Zombie Valentine's Day Cards
Four classic-looking Valentine's Day Cards – with at least 200% more zombies.
Printed on beautiful card stock with nothing inside but some extra scary drawings (aka: add your own lovey greeting).
One of each style per pack.
Four free envelopes with each order!
Dimensions: 5″ x 7″ (or 7″ x 5″ depending on the design).
2. Plush Unicorn Bouquet
We've never understood why tradition dictates that we give soon-to-be-dead flora to the person we hope to have around for a forever-and-ever relationship. It's really silly if you think about it. We'd much prefer a potted plant that we can see grow year after year or a gaggle of unicorns.
You heard right, a gaggle of unicorns. (Or a "blessing" if you wanna be technical.) Think about it. Unicorns are magical. Love is magical. Unicorns are beautiful. Love is beautiful. Unicorns never fart. Love tries to fart in the other room. A unicorn chaser can make you forget bad things. Love makes you forget bad things.
Give the gift of everlasting magic with our Plush Unicorn Bouquet. This huge bouquet is just as impressive as anything you could get at a dead flower shop. It's wrapped in bright purple paper and a blue bow and contains 11 miniature plush unicorns on removable stems. Why 11? Because our unicorn factory said it's a power number and will bring your relationship good luck!
Product Specifications
Roses die, give the magical gift of unicorns!
Bouquet of 11 plush unicorns in a beautiful wrapping
Each unicorn is on a "stem" which can be detached
Bouquet is wrapped in white and purple paper with a light blue bow
Unicorns have posable legs and can stand, sit, lie down, and brohoof
Unicorn Dimensions: 3.5″ (snout to rump) x 5″ (hoof to tip of horn)
Bouquet Dimensions: approx. 24″ x 16″
Ships in its own box to prevent it being crushed by other items
Wrapped in clear plastic with purple hearts
3. I Love You / I Know Cufflinks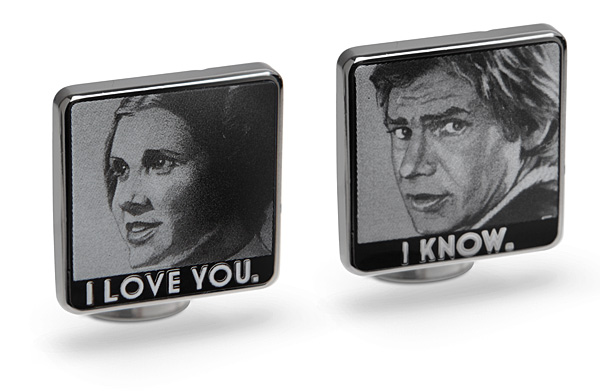 Perfect for the Han in your life. Because, as much as Lucas may have thought he understood him, Han never would have said, "I love you, too," as the scene was originally scripted.
Everybody's got a smuggler/princess combination in their lives. Your Beatrice and Benedick who are too busy being sharp-tongued and witty at each other to realize they're perfect for one another (although the chemistry is obvious to everyone observing). Or maybe you ARE that couple.
Once that couple realizes they belong together, this cufflink set is great tribute to their romance. The pair features one cufflink with Leia's picture and the words, "I LOVE YOU." and the other cufflink with Han's picture and the words, "I KNOW." It's romantic and sassy and perfect for that couple, whether you know them or are them.
Product Specifications
Pair of cufflinks with Han and Leia's pictures and their iconic interaction: "I love you" / "I know"
Officially-licensed merchandise from Lucasfilm
Fixed-back closure (Star Wars logo)
Comes in a Star Wars box
Materials: Rhodium-plated base metal with enamel
Dimensions: 3/4″ square
4. Pixel Heart Heat Changing Mug
You can't rescue the princess without your health! The Pixel Heart Heat Changing Mug is here to remind you that filling up on health is easy for you. You don't need to adventure to find pieces of heart. You just walk up to the Caffeinated Potion Machine and pour yourself a fresh cup of wake-me-up. Done and done. Watch as the heat-sensitive ink turns the sad black heart into a healthy, full red one. Now you're ready to tackle the Big Boss. (Just don't stomp on his head like last time, okay?)
Product Specifications
Fill with a hot beverage to fill your red heart of health
Image made of thermo-graphic inks that react to heat
As beverage cools, the heart goes back to low-life (mostly black)
Holds 12.8 ounces of your life-inducing hot beverage of choice
Materials: Porcelain
Dimensions: 3.8″ x 3.2″ x 5″
Important: Hand-wash only, do not microwave. Heat-changing ink cannot withstand heat beyond the level of a cup of tea or coffee.
5. Gold-Plated Tungsten Carbide One Ring
For the couple that is a bit more serious, the One Ring gave its bearer new powers of invisibility and immersed them into a shadowy world of darkness. Even those who were truly pure and unselfish couldn't help but be corrupted by the ring with time. We recommend you be careful then when you order this One Ring replica from The Lord of the Rings trilogy. We wouldn't want to see you corrupted… unless maybe it meant that we would get the Precious…
Of course, we have more than One. However, much like the One Ring in the movies, this Tungsten Carbide One Ring replica has the highest melting point of all non-alloyed metals and tough enough to go with you on your daily adventures. You'll need the volcanic lava of Mount Doom to destroy it… or you could just wear it and see if you can withstand its evil powers.
The ring features an inscription in Elvish letters of the Black Speech devised by Sauron when he crafted the all powerful ring:
"One Ring to rule them all, One Ring to find them, One Ring to bring them all and in the darkness bind them."
Wield your power carefully.
Product Specifications
18K Gold-Plated Tungsten Carbide ring
Comes with walnut gift box lined with blue velvet
Engraved with words in ancient Elvish runes
Available in sizes 7 to 11
Fun fact! Size 11 is what was used in filming
Sterling Silver Chain of Frodo sold separately (This is an exact replica of the 25″ chain Frodo used to carry The One Ring around his neck.)
6. Wonder Woman Boyshorts 3-Pack Panties
We believe that to be a true Wonder Woman, it's important to have the right set of things. Yes, it is important to have the costume, the mask, and of course the super power! But, imagine wearing these super cute boyshorts! Wearing these on the inside would make you feel like you are now perfectly dressed to go and get those villains. These are so comfortable, that you will be able to fight the villains with complete ease!
100% cotton three Wonder Woman boyshorts in a box as shown.