The Defense Advanced Research Projects Agency, or DARPA, has released video footage of a project that's been long in the works and really starting to now take shape. The Protection Ensemble Test Mannequin — or "PETMAN," for short — is the subject of the latest clip, and very well could be all it takes to scare off any insurgents once it's ready for the battlefield.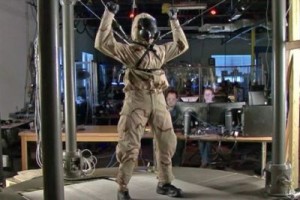 PETMAN is an anthropomorphic robot designed for testing chemical protection clothing. Natural agile movement is essential for PETMAN to simulate how a soldier stresses protective clothing under realistic conditions.
Unlike previous suit testers that had a limited repertoire of motion and had to be supported mechanically, PETMAN balances itself and moves freely; walking, bending and doing a variety of suit-stressing calisthenics during exposure to chemical warfare agents. PETMAN also simulates human physiology within the protective suit by controlling temperature, humidity and sweating, all to provide realistic test conditions.
The PETMAN system was delivered to the user's test facility where it is going through validation experiments. Boston Dynamics' partners for the program are MRIGlobal, Measurement Technologies Northwest, Smith Carter CUH2A (SCC), SRD, and HHI Corporation.
"PETMAN", earlier prototype walking.
"PETMAN", earlier prototype navigating obstacles.
"PETMAN", clothed head-to-toe in full-on camouflage, jogging in place on a laboratory platform.
[Source – www.bostondynamics.com]
Hopefully Skynet does not become self-aware!