It's an announcement that makes every South African smile one of those long, deep intensely satisfying smiles. One of our own is officially the new host for one of America's leading daily shows. The Daily Show.  Just a few months into his job as a contributor to Comedy Central's The Daily Show, Trevor Noah on Monday received a huge promotion. Comedy Central didn't always plan for it to work out that way, but shortly after Jon Stewart announced his plans to depart as host, the network found itself tasked with putting together a short list of possible replacements. Those names included Noah from the get-go, according to Comedy Central president Michele Ganeless.
"We talked to women, we talked to men," Ganeless told Mashable shortly after Noah was announced as the next face of The Daily Show. "We, ultimately, in the more time we spent with Trevor, realized he is the person, the right person for this job."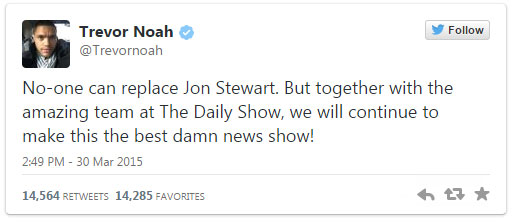 The search to replace Stewart was no small feat, especially with seemingly endless opinions about who could and should fill the role. Early could/should lists included people like Amy Poehler, Comedy Central family member Amy Schumer, The Talk host Aisha Tyler and Daily Show vets like Samantha Bee, Jason Jones and Jessica Williams. Bee and Jones ended up heading to TBS, where the former will host a current events series. Williams, meanwhile, crushed some viewers just days after Stewart's announcement by saying she had no plans to be his successor. Ganeless would not comment specifically on who else besides Noah was considered, but she said the network's decision was, in the end, motivated by fairly simple principles. It also had the blessing of Stewart, who was an adviser throughout the process, she said.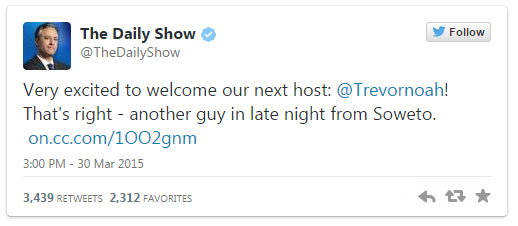 "It is all about finding the right person, and you have to put blinders on in a way," Ganeless said. "[There was] so much chatter going around about what we should do and why we should do certain things, and what's the best thing for not just the network but the future of comedy and the future of late night TV. … For us, it's all about talent and point of view and comedic voice, and you have to block out everything else."
If you aren't familiar with Noah's work, here are a couple of videos to introduce you:


Stewart's final broadcast is yet to be announced, but until then, Ganeless says the Daily Showcreative team and Noah will begin meetings to figure out "what the show will look like with Trevor in the host seat."
"He is such a huge international star, it's hard to say we identified him," she said. "But we do think he is the perfect person to help the show remain as strong as it is for years and years to come."