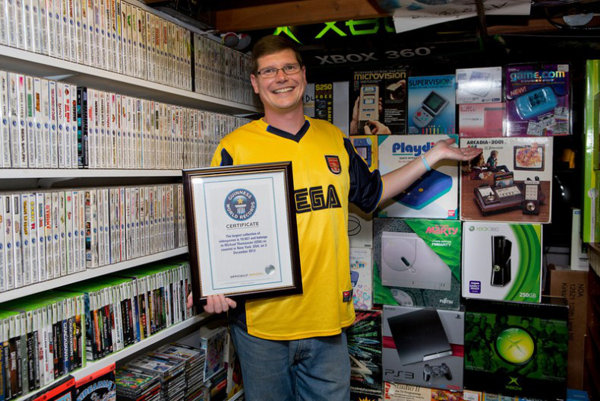 Yep, the gentleman above, Michael Thommason, is smiling so broadly because he's just earned himself a cool $750 000 by auctioning off his collection of over 11,000 games. The sale, which worked out to roughly $68 per game, was made with his extended family in mind as Thommason felt that they had needs which had to be addressed. "While I do not wish to part with these games, I have responsibilities that I have made to others and this auction is how I will help meet them," said Thommason.
The collection was snapped up by an anonymous bidder on GameGavel after an intense battle between two interested parties. According to the bid history, two main bidders – "peeps_10091970″ and "catch123″ – were locked in a tight bidding war. "catch123″ submitted a $750,000 bid on June 11 at 9:36am EDT, before "peeps_10091970″ offered $750,250 just two seconds later. This was the final and winning bid.
Interestingly, this is not the first time Thommason has been forced to part with his world record collection as in 1998 he sold off complete collections for the SEGA Master System and TurboGrafx-16 to help fund his wedding. "I have since reacquired most of the games over the years, but some titles such as Magical Chase are still elusive, which is even more funny when one considers the name of the game!"
Considering the 30 years of effort Thommason put into amassing all of the games, the sale is no doubt a bittersweet event for the collector. Nevertheless, he remains an avid gamer and teaches courses on 2D animation, game design, and video game history at Canisius College in the USA.
[Source: World's Largest Game Collection Sells for $750 000]