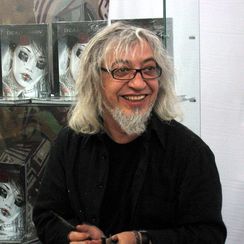 Luis Royo is our featured artist of the month. His work has captured our attention for quite some time now. The list of all his work that is to be found in books, albums, card collections and calendars are simply too vast to mention here. If you where in the market to buys some of his original work, then prepare to cough up quite a few tens of thousands of Euros.
We love Luis because he captures the contrast between good and evil, beauty and monstrosity unlike we've ever seen.
Careful though as you scroll through the slider, some of these images may be NSFW.
Luis Royo Artist of the Month:
His work can be purchased directly from his website, which includes personalizing it, or signings. His yearly Calendar has become a massive success, here's the latest 2013 Calendar cover, and the 2012 Calendar: