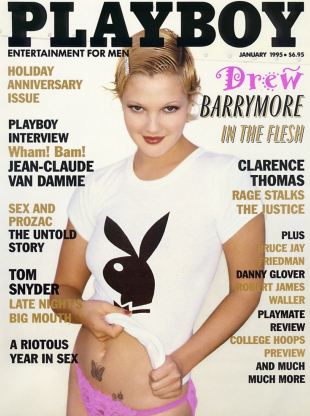 Drew Barrymore, a former child star and actress, made headlines in 1995 when she posed for Playboy magazine. At the time, Barrymore was 19 years old and trying to shed her good girl image. Her appearance in the adult magazine was seen as a rebellious move, and it garnered mixed reactions from the public.
Barrymore had already gone through a tumultuous adolescence, battling addiction and making headlines for her wild behavior. Her decision to pose for Playboy was seen as a continuation of her attempts to break away from her child star persona and establish herself as a more mature actress.
The Playboy shoot itself was controversial, with many criticizing the magazine for exploiting Barrymore's young age and troubled past. However, Barrymore defended her decision, saying that she wanted to take control of her own image and show that she was comfortable with her body.
In the years since the Playboy shoot, Barrymore has continued to make a name for herself in Hollywood. She has starred in numerous films and television shows, and has become known for her down-to-earth persona and relatable approach to fame.
Despite the controversy surrounding her Playboy appearance, Barrymore has remained a beloved figure in the entertainment industry, and her talent and resilience have continued to inspire fans around the world.
Here's the Complete 1995 Drew Barrymore Playboy shoot