We've been following the news of the upcoming Star Wars film, Star Wars Episode VII with exceptional detail and interest. It's been just over a year of following and 'reporting'  and we thought it wise to bring everyone up to speed with all the news, and create this 'Star Wars Episode 7 – Everything You Need to Know list.
With the full cast made known last week, we can now indulge our inner force and dream/speculate on what role each person may take:
Here's Star Wars Episode 7 – Everything You Need to Know:
1. Start Date
Episode VII is slated to open December 18, 2015, a date shift that was necessitated by delays in production. This will be the first Star Wars movie to not open in its traditional May berth. "We're very excited to share the official 2015 release date for Star Wars: Episode VII, where it will not only anchor the popular holiday filmgoing season but also ensure our extraordinary filmmaking team has the time needed to deliver a sensational picture," said Alan Horn, chairman of The Walt Disney Studios.
2. J.J.Abrams inititally turned down the job
A huge Star Wars fan, filmmaker J.J. Abrams was understandably reluctant at first to accept the directing job. In fact, he turned it down. In addition to his many TV producing commitments and the fact that he'd already taken on an existing sci-fi franchise in Star Trek, Abrams was said to be reluctant to relocate his whole family from L.A. to London for the long production. Lucasfilm honcho Kathleen Kennedy recalled to THR how she eventually won over Abrams in January 2013.
3. Filming to Take Place in Abu Dhabi & Pinewood Studios
Disney Studios chairman Alan Horn said the recent filming in Abu Dhabi was just second-unit shooting and that first until principal photography hasn't commenced yet. He also acknowledged that the bulk of the sequel will be done at Pinewood Studios in England and Abu Dhabi, saying, "We have all these locations we have to film and we have to give it that Star Warsian look."
4. Episode 7 Timeline
It has been confirmed that the Star Wars: Episode VII storyline will take place 30 years after the Battle of Endor and the events portrayed in Return of the Jedi. This makes complete sense, given that it's been rumored that Abrams wants the plot of the film to revolve around Luke, Leia and Han from George Lucas' original trilogy. In order to do this Episode VII, would need to factor in the age of the actual actors, and it appears that's exactly what's being done.
5. Lawrence Kasdan Replaced Michael Arndt as Screenwriter
Oscar winner Michael Arndt was the original screenwriter hired for Episode VII, but he was (in)famously dropped a few months back and the entire story re-jiggered. Empire Strikes Back and Return of the Jedi's Lawrence Kasdan, who has been consulting on the film and the planned Star Wars spinoffs, ended up rewriting the script along with director J.J. Abrams. While time will tell if Arndt will get a "story by" credit on the final film, Kasdan and Abrams were the only two screenwriters named in Lucasfilm's official Episode VII announcement last week.
"It became clear that given the time frame and given the process and the way the thing was going that working with Larry in this way was going to get us where we need to be and when we needed to be," Abrams said last November. "Working with Michael was a wonderful experience and I couldn't be a bigger fan of his or adore him more. … He's a wonderful guy and was incredibly helpful in the process."
6. The Cast
Check-out our detailed post on the new and returning cast here. Set 30 years after the events of Return of the Jedi, Episode VII sees the return of the original trilogy's Luke Skywalker, Princess Leia, Han Solo, Chewbacca, C-3P0 and R2-D2. Our beloved heroes will interact with a whole new group of (unspecified) characters to be played by John Boyega, Oscar Isaac, Daisy Ridley, Adam Driver, Domnhall Gleeson, Andy Serkis, and Max von Sydow.
Returning cast members:
Harrison Ford – Han Solo
Mark Hamill – Luke Skywalker
Carrie Fisher – Princess Leia
Anthony Daniels – C-3PO
Peter Mayhew – Chewbacca
Kenny Baker – RD-D2
Newbies:
John Boyega
Daisy Ridley
Adam Driver
Oscar Isaac
Max von Sydow
Andy Serkis
Domhnall Gleeson
7. George Lucas will serve as "creative consultant"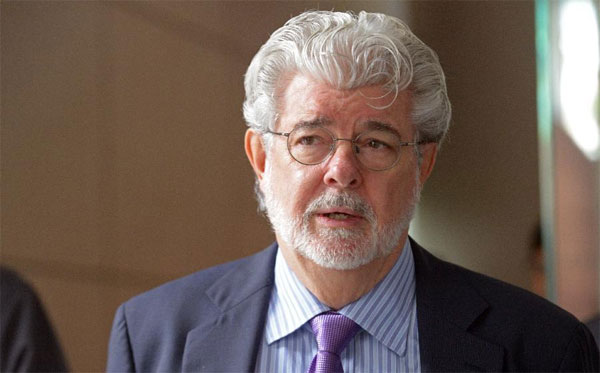 Though series creator George Lucas ceded all control to both the Star Wars franchise and Lucasfilm when he sold the company to Disney, he remains a "creative consultant" for Episode VII. What exactly does "creative consultant" mean? According to Lucas himself, his job is "helping out with the script," though his role will be far, far more hands-off than it was for previous films. This time, he'll merely grandfather the series and offer input when necessary. "That's all my job is, to be the keeper of the flame," adds Lucas.
8. Episodes VIII and IX are already in pre-production
2015 may sound far, far away to Star Wars fans, but we'll soon be up to our necks in Star Wars films. In an April 2013 interview at CinemaCon, Kathleen Kennedy revealed that the studio hopes Abrams will return to direct Episodes VIII and IX, completing yet another trilogy in the franchise. And looking beyond the main series, Disney has even bigger plans for the franchise; the company is also developing a series of stand-alone films, which means that starting in 2015, at least one new movie set in the Star Wars universe will be released every year until 2020.
Check out our 'Star Wars Episode 7′ archive.