It's another busy week on the iPhone 6 rumour mill. With multiple screenshots and leaked images making its way online. The latest rumours claim that Apple's latest model of the iPhone will have a protruding camera lens, with a .6mm thicker body to cater for the bigger camera lens.
It is entirely possible that Apple playing around with a few prototypes, among them the device pictured here, but there's no way of ascertaining whether this particular prototype ever made it past the testing stage. For what it's worth, a purported engineering drawing upon which today's iPhone 6 renderings are based also calls for a rounded LED flash design and a protruding camera component on the back.
The sketches, seen below, claim that the iPhone 6 will be 7.1mm thin (the iPhone 5s is 7.6mm thick). If its chassis is too thin to accommodate the entirety of the back camera module, the protrusion becomes perfectly conceivable.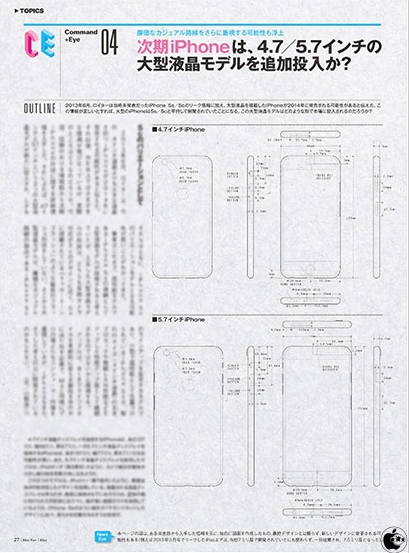 The rumor-mill thinks Apple is working on two iPhone models this year, one with a 4.7-inch screen and the other using a screen that measures at least 5.5 inches diagonally, which would class that model as your typical phablet.
Other features of the iPhone 6 are said to include a speedier A8 chip, edge-to-edge display design with sapphire protection, three new sensors, 802.11ac Wi-Fi and an improved eight-megapixel camera.
Martin Hajek, also drew up some pretty awesome looking concept images, and based on these, it may just be a pretty awesome looking iPhone 6: